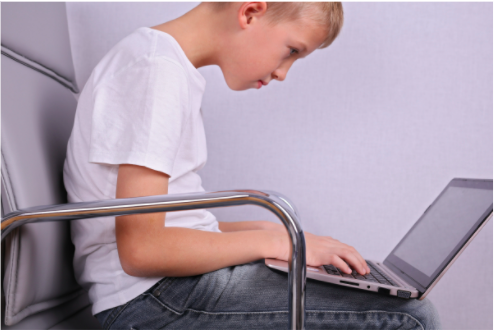 08 Aug

Postural Development in Children
Posture in a Tech Dominated World
It is natural for all of us to be worried about the development of our children's posture. We have all heard that too much X-Box/PlayStation, Iphone/Ipad and computer use can cause detrimental effects on our children's posture. However, in todays world we all know it is completely unrealistic to ask our children to stop using technology. It is imperative they have extensive knowledge and skills in how to use technology. The question remains, what can we do to protect our children's posture?
What can we do to help our children's posture?
It is important to note that there are natural variants in everyone's posture and our posture will change throughout our lifespan. What may look like poor posture in a 10-year-old may simply be that their stomach muscles are yet to develop good strength and control to maintain good posture. However, there are certainly simple strategies we can utilise to help maintain good posture.
Below is a list of strategies that can be easily implemented:
Minimise Screen time and regular breaks from the screen.
Where Screen time cannot be limited ensure that for every 30-minutes of screen time 5-10 minutes are spent doing some active away from the screen.
Ensure Home-School/Work station is set up well.
Ideally the keyboard and/or desk should be at a height where a 90-degree elbow angle can be maintained.
If using a computer, the screen shoulder be at eye level with the mouse nice and close.
Do not let children/adolescents do homework in bed, as much as it is comfier in bed it also encourages extremely poor posture.
Ensure School bag straps are not hanging loose and minimise weight of school bad where possible.
Have your child involved in various sport and recreational activities.
Importance of Sport/Exercise for Postural Development
Sports and recreational activities help in a multitude of ways, as well as getting children away from the desk, it helps to strengthen muscles, give children awareness of their bodies and posture and simply keep everything moving.
How Can Physio Help with Posture?
Unfortunately for some children, further postural intervention may be required. This may include activity modifications, exercise and stretches. If you have any questions or concerns, please do not hesitate to contact the physiotherapists at Western Paediatric Physiotherapy.