In a time of unsettlement and uncertainty – it is important to continue to look after yourself and your children and dedicate time to continue working towards our goals.  To keep up with our current environment Western Paediatric Physiotherapy have introduced Telehealth Services.
Even though our doors are still open, you can book Telehealth consults from now. You can book online treatment atwww.westernpaediatricphysiotherapy.com.au or you can ring our Clinic on 8001 2042.
You may wonder – how can a physio paediatric consultation be completed online
This is how:
Your child's history and any symptoms or movement issues can tell physiotherapists a lot about the current issue and how best to deal with it.
A physical exam can still be performed through video analysis with feedback reported back to your physiotherapist.  I will guide you through what I need to assess and can see how your child is moving,
With the history and physical assessment, a diagnosis or management plan can start if you're a new client.
Your physiotherapist can provide you with advice, education and home management strategies.
I can see first-hand how you're going with set home exercises and assist with any difficulties you are having. It's helpful to see them in their home where they are most comfortable and see how they interact with you.
I can see how your child is moving and the milestones they can or can't achieve and any limitations affecting their success.
This means that several conditions can still be managed appropriately with success via telehealth.
We can provide you with home exercises for you to do at home and also monitor these over telehealth consults.
Anyone who was previously doing 1:1 supervised session's to work on strength, balance, milestones etc, these can still occur via telehealth and this can also help set up a good home routine.
If best quality care, or scope of your condition requires in-person assessment – our physiotherapist will tell you straight away. Same if we believe other medical or allied health professionals should be involved.  In the Clinic we have taken extra measures to ensure a safe, sterile environment including sanitising surfaces, screening patients, limiting the amount of people allowed in the gym and rooms and hand sanitising on arrival amongst many more.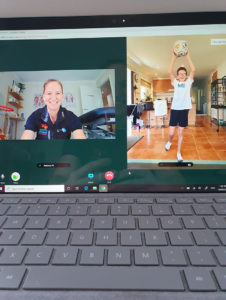 Telehealth can be used on a smart phone, tablet/laptop or desktop computer with a camera attached.  Having a good internet connection is also important.  The appointment will be run through Physitrack (the PhysiAPP can be downloaded free from your App store).
Once you have booked your appointment an email will be sent outlining how your consultation will work through the app 'PhysiAPP'. This email will also include a link that you will need to click to start the consult. Hoppers Physio will send a reminder 10 minutes prior to your consultation. Please ensure that whichever device you are using that it does have a camera and microphone and that it has been enabled.
Telehealth sessions can be claimed under NDIS.