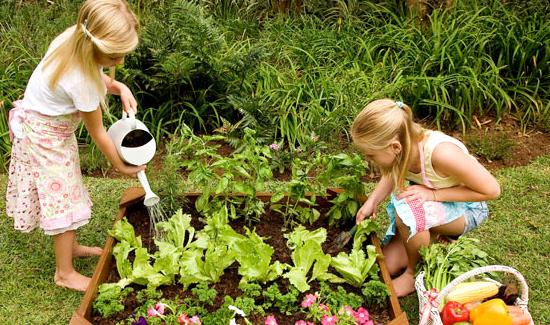 01 Oct

Spring and your kids
Fun things to do as the weather warms up
Hands up if getting outdoors with your kids is easier for you when you don't need your jacket and beanie… While there's a lot of fun to be had in winter, it can be a little more fun for mum and dad when there isn't such an icy chill in the air. Here are some fun activities you can try this spring that will help keep your active toddler, kindy kid or primary schooler entertained:
1. Plant some veggies in the garden:
Spring is the ideal time to introduce children to planting a garden. There are a wide variety of fruits and vegetables that are ideal to plant between now and the beginning of summer, and whether you have a large patch of garden or a few small pots on your back step there's likely something you'll be able to grow together. Gardening can be a great deal of fun for children in a number of ways. Digging in the dirt, planting the seed or seedling, and using the watering can or hose allow children to move their bodies and their fingers, learn about the seasons and nature's life cycles, and enjoy some interesting textures, all while getting a little bit messy in the process. It's also a fun way for parents to engage with the world down at their children's level, sharing with them the joy of seeing a wriggly worm or a tiny little lady bug. Children will enjoy watching their plants grow and eventually picking them and helping prepare a meal. Teaching children to grow and enjoy their own healthy food is a great way to set them up with some skills for being healthy adults.
2. Get out to the local park or football oval for a play:
The longer days of spring mean that there's still plenty of light to be playing outside after school without freezing your little toes off. Taking a ball or a Frisbee down to the local park or climbing on the equipment are fantastic gross motor activities for children. The large outdoor setting allows for plenty of free movement and space to run, jump, kick and climb. The extra light at the beginning and end of the day also make for good times to catch a little hit of Vitamin d without having to worry about the middle of the day UV. Why not pack a picnic dinner one warm night soon and enjoy playing outdoors with your kids until the sun goes down. 
3. Pick the swimming lessons back up:
A lot of parents choose to have a break from the pool over winter when coughs, earaches and runny noses seem to be everywhere. But in our summer loving culture full of sandy beaches and pool parties, knowing that your child can swim makes fpr some important peace of mind. Confidence and safety in the water are vital if your child is going to be lapping it up in the water this summer, and now is a great time to start getting back into the swing of things. Remember to always supervise your children in the water, safety first eople!
4. Go for a spring themed scavenger hunt:
Baby animals, blossoming flowers, bees and butterflies – there are numerous things you could list for your children to spot on a walking adventure that will keep them entertained and out of doors. There are a variety of printable scavenger hunt ideas available on the internet or, even better, you could come up with a list together that your child could decorate before you head out. Arts and crafts are great for hand eye coordination and fine motor skills, and the scavenger hunt itself will encourage your child to engage with their surroundings and learn about nature. You never know, you might learn some new and exciting things too!
Spring is a fantastic time to encourage your children to move their bodies and explore the great outdoors. If you have any concerns about your child's movement or development, or are after some ideas about movement and exercise tailored to your child's individual needs please call (03) 8001 2042 for an appointment with one of our friendly kid's physiotherapists today.