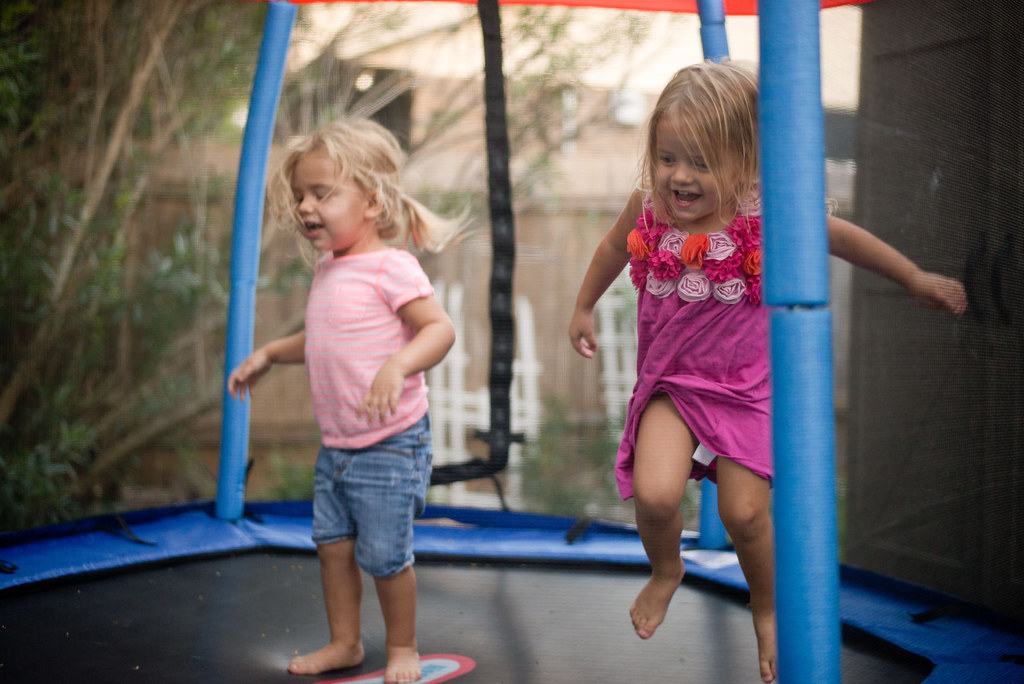 19 Sep

Jump to it! Let's talk about trampolines…
Trampolines are amazingly fun but how safe are they?
Are there any benefits to children using trampolines? What sort of safety features should you look for if you are going to invest in one?
Jumping is fantastic for children. It builds bone density, strengthens muscles, improves balance and coordination and, possibly most importantly of all if you're the parent of an active little one, it expends all that pent up energy! Using a trampoline can be a fun way to enjoy the benefits of jumping and can be an excellent way to motivate your child to move their body. Jumping on a trampoline can help with fitness, boost circulation and aid with sensory and motor development.  It can also help children improve their social skills by allowing them to practice turn taking and sharing, and by providing the arena for some creative games and challenges.
You may be considering either buying a trampoline or going to one of the many indoor trampolining centres that have popped up in recent years. Here at Western Paediatric Physiotherapy in Hoppers Crossing we are all about getting your kids moving and having fun, so here are our top safety tips for using trampolines without getting hurt:
How old is your child?The Royal Children's Hospital recommendation is that no children under 6 years old should use a trampoline as they are more prone to serious injury during those early years. Very young children have softer bones than those of older children and adults, and it takes a while developmentally for children to put their hands out to brace themselves if they fall. Whilst this is normal and falls are a part of being a small child, the added bounce and potential for an awkward landing associated with trampolines means it isn't the greatest activity for very young children. Holding your child's hands while they jump or using a small rebounder with a handrail attached may be a better option if your child is under 6.
Use trampolines fitted with a safety net as well as padding on the frame and springs. If you grew up in the era before safety nets were commonplace you probably have had experience with part of your body meeting the springs on a trampoline. Ouch!! No child needs to know that feeling in 2019! If you are going to use an above ground trampoline then having one with a safety net is a fabulous way to ensure your child is able to enjoy their bouncing without risking their neck (or back, arms or legs!). The height someone falls from is one of the main things that influences the severity of an injury so cutting out the possibility of a large fall by only using above ground trampolines with netting is a great way to go. If you are using an in-ground trampoline, ensure there is adequate padding on all sides.
Place your trampoline on a soft surface like grass. While the netting will stop a child falling off the trampoline (so long as it is used properly) it is still important to ensure your child is safe while getting on and off. Placing your trampoline on a soft surface means that even if your child takes a bit of a missed step on the way up or down they are less likely to seriously hurt themselves.
If you are interested in using a trampoline with your child, but have questions about whether or not it would be appropriate for them, why not have a chat to one of our friendly kid's physios? We can assess your child and discuss what sorts of activities might be a good fit to meet your child's individual needs. Call us on (03) 8001 2042  to make an appointment.