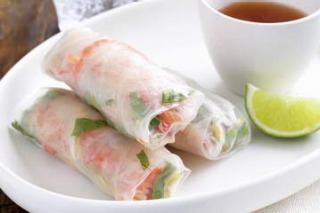 13 May

Easy and delicious lunch box ideas

Preparing a nutritious, healthy and yummy lunch box for any child can be difficult and that's why the team at Western Paediatric Physiotherapy in Hoppers Crossing have found a recipe that's easy to make and brings a pinch of variety into your child's lunchbox!

To make our vegetable rice paper rolls, let's start with the ingredients:

1/2 cup dry rice vermicelli noodle

4 spring onion (finely chopped)

1 carrot (large, grated)

1 cup white cabbage (finely shredded)

1 capsicum (medium, finely sliced)

1 cup spinach (shredded)

16 rice paper sheets

Cover rice vermicelli noodles with boiling water and allow to soften for 5 minutes and then drain.

Lay out all the salad vegetables in a production line so they're ready to go. Place a rice paper sheet into a bowl of cold water and leave for about 30 seconds until it's softened. Carefully lift rice paper rolls out of the water, gently squeeze out water and place on damp absorbent paper.

Add vegetables to the middle of the rice paper roll. Fold up the top and bottom sides over the filling and gently roll the mixture until enclosed.

Place each roll on a plate under damp absorbent paper and make the rest of the rice paper rolls.

Try this great kids recipe with a favorite sauce!

Our Children's Physio is located in Melbourne's West. We're the physios for growing bodies! If you would like further information on our physio services or would like to book an appointment, call our friendly team today on 

(03) 8001 2042

.